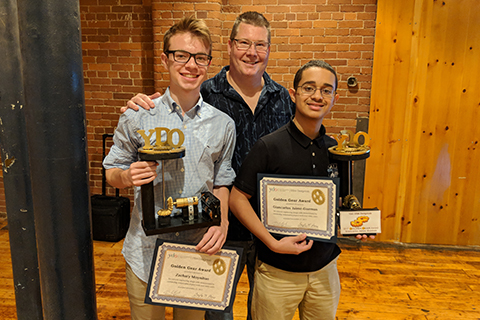 2017 Golden Gear Recipients Announced
11.22.17
3 STUDENTS EARN HONORS FROM YDO'S STEM DESIGN LAB
At this year's YDO Gives Thanks, Director of STEM Programs, Doug Prime, recognized the achievements of three students who have demonstrated exceptional technical skills & learning, creativity, and independent problem solving. The Golden Gear award was designed and built by Doug for each recipient.
Congratulations to the 2017 Golden Gear Award recipients:
Giancarlos Jaime-Guzman – Gr. 10, Abbott Lawrence Academy
Zachary Moynihan – Gr. 9, Phillips Academy in Andover
Luis Ruiz – Gr. 9, Abbott Lawrence Academy
______
YDO's STEM Design Lab was established in 2014 with support from entrepreneur and philanthropist Mark Gelfand. On March 24th 2015, The Lab was dedicated to Mark's father, Harvey S. Gelfand, a science teacher at Charles F. Brush High School in South Euclid, Ohio.