Make It Possible
Help improve the trajectory of students' lives. Donate one time or monthly.
Yes, ydo is a registered 501(c)(3), and your donation is tax deductible!
Pathways Class of 2021 Success
58%
have acceptances by March
26%
chose school or made post-secondary plan by March
Give By Mail
Checks, made payable to "YDO", can be mailed to our office:
Youth Development Organization
15 Union St Ste 500
Lawrence, MA 01840
Give by Phone
You can call us at to reach a member of our staff who will be happy to help:
(978) 688-4300
Contact Us
If you would like more detailed information about supporting current or future opportunities for our kids, please do not hesitate to contact our staff.
YDO is happy to direct your donation towards any specific subject area or program you may choose.
Awards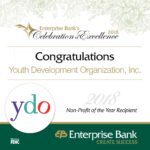 Every financial contribution, no matter the amount, will directly benefit student programs.