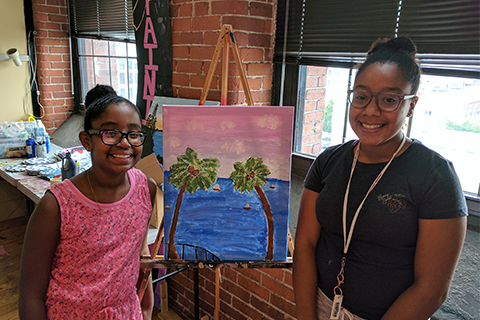 End of Summer Exhibition 2017
08.04.17
YDO'S BIGGEST SUMMER EVER!!
On Thursday, August 3rd the students and staff of YDO Summer 2017 welcomed friends and family to enjoy the presentation of projects and performances from the students' five weeks of work.
This year's program served a record-setting 145 students in grades 3-8. The staff of 46 high school and college students offered 25 different project-based classes, and each class prepared at least one showcase work to share with the audience of over 300. The atmosphere was alive with talent, joy, pride and excitement!
Science – Anatomy, Chemistry, Coding, Government, Kid Engineering, Kinesiology, LEGO Robotics, Math, Tools & Building, Video Game Design, Video Game History
Arts – Acting, Ceramics, Crafts, Dance, Drawing, Fashion Design, Film Making, Hamilton Hip-Hop, Improv, Music, Painting, Photography, Tumbling, Writing
Student Awards
Spirit Week – Chasity Foreshaw (Gr. 5, Parthum)
Spirit Week – Sydney Whalen (Gr. 4, Frost)
Most Outstanding Citizen – Marcus Lopez (Gr. 4, LCA)
Most Improved Student – Tyrese Acevedo-Casado (Gr. 5, LCA)
Student of the Summer – Yashira Huertas (Gr. 6, Guilmette)
Bringing down the house… Watch the kids' awesome dance performance!