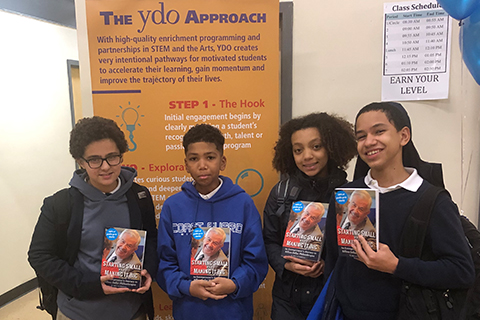 Future Leaders Learn from Local Legend
11.08.18
A group of Lawrence's future leaders (aka YDO Kids) had a special opportunity to learn directly from one of this country's most generous and successful entrepreneurs. Bill Cummings, founder of Cummings Properties and the Cummings Foundation, led an engaging and inspiring discussion about his path to success, in business and philanthropy, in a November 8 event co-hosted by 30+ nonprofits in Lawrence and Lowell, including YDO. Bill shared experiences and advice from his new book, "Starting Small and Making It Big: An Entrepreneur's Journey to Billion-Dollar Philanthropist."
Our students and staff were grateful for the chance to learn from a legend–in the commercial real estate industry and in the philanthropic sector–whose own story began in a one-bedroom apartment over a Medford, MA liquor store. From his local beginnings, Bill is now "one of the most generous people in America," according to a November 27, 2018 article in Forbes. The story highlights Bill's path to professional success as well as he and his wife Joyce's extraordinary commitment to charity and to giving close to home. In fact, Bill and Joyce were the first in Massachusetts to sign the Giving Pledge. Launched by Bill Gates and Warren Buffett, those who sign commit to giving away the majority of their wealth in their own lifetimes.
As the recipient of a transformative Cummings Foundation grant in 2015, YDO was honored to help bring Bill's message–of perseverance, fiscal responsibility, generosity, hard work, and kindness–to our community.
You can read more about Bill and Joyce and their dedication to supporting local non-profits in this article by Forbes Magazine.