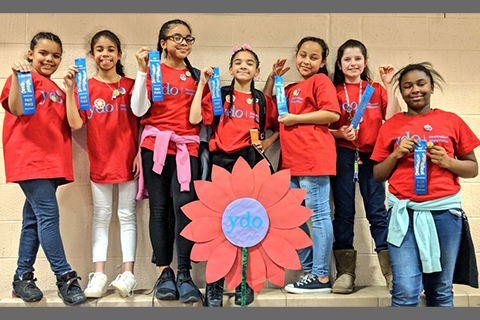 MADI Region 5 Champions
03.11.18
This year's regional competition was held Saturday, March 24th at Greater Lawrence Technical School. The two YDO teams have been working on their challenges for the duration of the school year, and their hard work and dedication has paid off!
We are proud to report our Middle level team took home 3rd Place in their category, while our Elementary team finished in 1st Place! (a first for YDO) This win means the team will advance to the State Finals and give them an opportunity to compete with the best teams across Massachusetts. The Finals will be hosted at Worcester Polytechnic Institute (WPI) Saturday, March 24th.
Ours were the only teams from Lawrence and, as per usual, represented themselves, YDO, and their city very well. The team spirit really shined the moment our team win was announced. After the younger girls accepted their 1st place ribbons, our middle school team rushed them for a celebratory group hug, putting their camaraderie, sportsmanship, and love for one another on display for the entire region to see. The sense of community YDO fosters for our kids is undeniable, even to those watching from the outside!