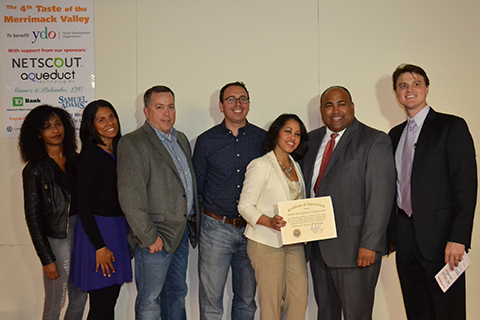 Mayor Rivera, City of Lawrence Honor YDO's 4th Taste
10.08.15
At YDO's 4th Taste of the Merrimack Valley, held Wednesday, October 7th, Mayor Daniel Rivera, on behalf of the City of Lawrence, presented YDO with a Certificate of Appreciation for "showcasing a variety of fine cuisines from the region's best restaurants and continued commitment to the community".

This annual fundraiser drew a slightly smaller crowd than last year's event. Nevertheless, those most important folks who attended this year proved more generous than ever before. The 4th Taste raised more than $15,000 just on the night of the event.

Our Restaurant Participants also stepped up their Tasting game this year with exceptional samples, leaving everyone wondering at which table start. Remember these YDO supporters for your next breakfast, lunch meeting or celebratory dinner!
Bali's Tropical Cafe – 59 Essex Street, Lawrence
Bell Tower Cafe – 60 Island Street, Lawrence
El Taller & Cafe Azteca – 275 Essex Street, Lawrence
Nick's Place – 195 Lowell Street, Lawrence
Raagini Indian Bistro – 209 North Main Street, Andover
Scooptopia – 360 Merrimack Street, Lawrence
Shadi's Restaurant – 585 Chickering Road, North Andover
The Party Connection – 51 Railroad Street, Methuen
Three Dogz Diner – 13 South Broadway, Lawrence

Thank you to everyone who contributed & attended!