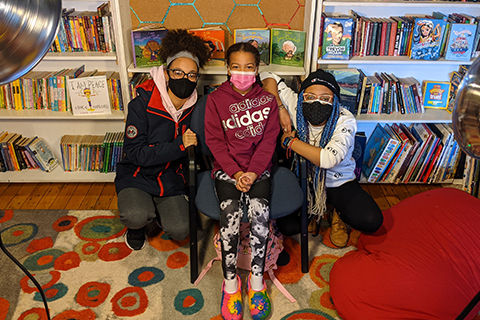 Message to Parents re:Spring Term
04.12.21
Hi everyone!
This message contains a lot of information about Spring in-person and virtual programs. Please read fully, and contact Mark if you have questions or would like to register for particular classes. La traducción al español está abajo.
In-Person Programs
For the Spring Term, we are increasing the number of opportunities for in-person programs at YDO. There are a few important things to note:
All of YDO's adult staff teaching in-person will have been fully vaccinated by the start of Spring Term.
We will organize the Spring into two (2) four-week terms.

Term 1 will begin the week of April 19 (school vacation week).
Term 2 will begin the week of May 17.

If families travel for school vacation, students will not be permitted to join Term1 but are welcome to participate in Term 2.
Students may choose only one (1) in-person program per term. This will limit the overall exposure of class groups, in case we need to isolate and trace for Covid.

Students can switch classes from Term 1 to Term 2. We are not asking for 8-week commitments to a particular class.

All classes will be limited to six (6) students.
All classes will run 5:00 – 6:00p, unless communicated otherwise.
Transportation will be available but limited due to Covid restrictions. If you can provide rides for your child, we ask that you do so.
Every day of class, YDO will text a link to a brief questionnaire just to make sure students and families are not experiencing Covid symptoms or close exposure.
Masks will be required at all times while students are at YDO or in YDO vans. Snacks will not be provided during class time but grab bags will be available on the way out so that students have something extra for when they can remove their masks.
Class Schedule
*Classes from Term 1 will repeat in Term 2, unless noted.
Monday

Upcycled Art w/Chyrstal (projects using recycled materials)
Food Science w/Glorimar

Tuesday

Engineering w/Doug (Spin Art Machine) – Gr. 5+
(Term 2) Engineering w/Doug (Party Lights) – Gr 5+
Yoga & Mindfulness w/Lisbeth – Gr. 7/8

Wednesday

Tools & Building w/Doug – Gr. 5+
Escape Room w/Chrystal (puzzles & teambuilding)

Thursday

Book Club w/Audre
Lego Build w/Lisbeth

Friday

Open Arts & Crafts w/ Chrystal
Dance w/Stacia
Please email <mkampert@ydolawrence.org> or text <724-570-2109> Mark at your earliest convenience to register.
YDOnline! Programs
Similar to the Winter Term, classes will be flexible and allow for week-by-week participation. Virtual classes will start the week of April 26 (after school vacation). All meetups will be held on Zoom with login starting 3:45p and classes running 4:00 – 5:00p, unless communicated otherwise. Jadahlee Peralta will be sending email reminders while Nelly is on maternity leave.
Drawing w/Jenevieve, Tuesdays
Digital Workshops (3D Design) w/Rayza, Tuesdays & Thursdays
Science w/Mya, Wednesdays & Fridays
Styles of Music w/Chanelle, Fridays
If you are interested in particular classes or you would like to stay on the weekly reminder list for YDOnline!, please email <mkampert@ydolawrence.org> or text <724-570-2109> Mark at your convenience.
___________________________________
¡Hola a todos!
Este mensaje contiene mucha información sobre los programas virtuales y en persona de Spring. Por favor, lea en su totalidad y comuníquese con Mark si tiene preguntas o le gustaría registrarse para clases en particular.

Programas en persona
Para el período de primavera, estamos aumentando la cantidad de oportunidades para programas en persona en YDO. Hay algunas puntos importantes a tener en cuenta:
Todo el personal adulto de YDO que enseña en persona habrá sido completamente vacunado al comienzo del período de primavera.
Organizaremos la primavera en dos (2) períodos de cuatro semanas.

El término 1 comenzará la semana del 19 de abril (semana de vacaciones escolares).
El término 2 comenzará la semana del 17 de mayo.

Si las familias viajan por vacaciones escolares, los estudiantes no podrán unirse al Término 1, pero pueden participar en el Término 2.
Los estudiantes pueden elegir solo un (1) programa en persona por trimestre. Esto limitará la exposición general de los grupos de clase, en caso de que necesitemos aislar y rastrear para Covid.

Los estudiantes pueden cambiar de clase del Término 1 al Término 2. No estamos pidiendo compromisos de 8 semanas para una clase en particular.

Todas las clases serán limitadas a seis (6) estudiantes.
Todas las clases se impartirán de 5:00 a 6:00 p. m., a menos que se comunique lo contrario.
El transporte estará disponible pero limitado debido a las restricciones de Covid. Si puede proporcionar transporte para su hijo, le pedimos que lo haga.
Cada día de clase, YDO enviará un mensaje de texto con un enlace a un breve cuestionario solo para asegurarse de que los estudiantes y las familias no experimenten síntomas de Covid o exposición cercana.
En todo momento mientras los estudiantes están en YDO en los vans de YDO, no se proporcionarán meriendas durante el horario de clases, pero habrá si habrá empaques disponibles para que los estudiantes tengan algo extra para cuando puedan quitarse las máscaras.
HORARIO DE CLASE
*Las clases del período 1 se repetirán en el período 2, a menos que se indique lo contrario.
Lunes

Upcycled Art con Chyrstal (proyectos que utilizan materiales reciclados)
Food Science con Glorimar

Martes

Engineering con Doug (Spin Art Machine) – Gr. 5+
(Término 2) Engineering con Doug (Party Lights) – Gr 5+
Yoga & Mindfulness con Lisbeth – Gr. 7/8

Miércoles

Tools & Building con Doug – Gr. 5+
Escape Room con Chrystal (rompecabezas y trabajo en equipo)

Jueves

Book Club con Audre
Lego Build con Lisbeth

Viernes

Arts & Crafts con Chrystal
Dance con Stacia
Envíe un correo electrónico a <abautista@ydolawrence.org> o envíe un mensaje de texto al <978-836-1661> Angela lo antes posible para registrarse.
YDOnline! Programas
De manera similar al período de invierno, las clases serán flexibles y permitirán la participación semana a semana. Las clases virtuales comenzarán la semana del 26 de abril (después de las vacaciones escolares). Todas las reuniones se llevarán a cabo en Zoom con inicio de sesión a partir de las 3:45p y las clases de 4:00 a 5:00p, a menos que se comunique lo contrario. Jadahlee Peralta enviará recordatorios por correo electrónico mientras Nelly esté en su licencia de maternidad.
Dibujo con Jenevieve, martes
Talleres digitales (Diseño 3D) con Rayza, martes y jueves
Ciencia con Mya, miércoles y viernes
Estilos de música con Chanelle, viernes
Si está interesado en alguna clase en particular o le gustaría permanecer en la lista de recordatorios semanales para YDOnline!, por favor envíe un correo electrónico a <abautista@ydolawrence.org> o envíe un mensaje de texto al <978-836-1661> Angela a su conveniencia.