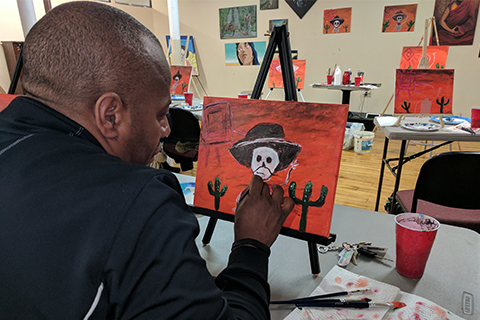 Parents-Only Paint Nite '17
05.06.17
For Cinco de Mayo 2017, YDO hosted one of its favorite parent engagement activities – Parents-Only Paint Nite.
YDO's Fine Arts Fellow, Adam Hernandez, and his mother Michelle (also an incredibly talented artist) led a group of 24 parents through the creation of their very own Mexican-inspired paintings. At YDO, Parents-Only Paint Nite operates as a potluck event. Parents bring drinks and snacks, and YDO provides the canvas and paint supplies without charging admission.
Aldonsa Pereyra, parent of a YDO Summer staff member, called the evening "the most impressive parent engagement event I've ever seen in Lawrence." Stereotypically, she admitted, she never expected to see so many Hispanic men – fathers and husbands – actively participating in this kind of arts activity.