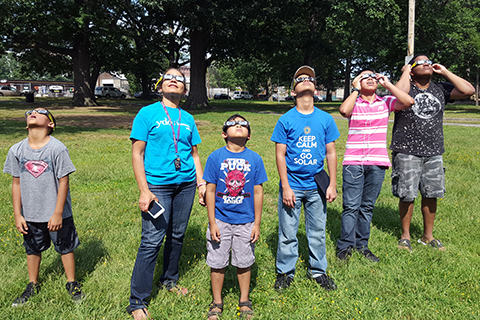 Partial Eclipse from the Park
08.22.17
Just one day before the start of the LPS 2017/18 school year, on August 21st, a group of YDO students gathered at the O'Connell South Common to observe the solar eclipse that was captivating much of America.
YDO's Director of STEM Programs, Doug Prime, had hoped to plan a trip with students to South Carolina, where the eclipse could be viewed in totality. "A phenomenon like a total solar eclipse offers our kids a once-in-a-lifetime experience." Though YDO could not fund such an excursion, Doug was happy to organize a viewing party of the partial eclipse in Lawrence. He explained why he was so excited, saying "It really is a wonder! Perhaps most impressive is the recognition that science and mathematics can so accurately predict the occurrence, path, and timing of these events."
Josue Rivera, a sophomore at UMass Dartmouth, really appreciated the opportunity to view the eclipse, saying "Our ancestors may have been completely puzzled by an eclipse, so I'm really happy to have the education and knowledge to understand what we are witnessing."
Perhaps if YDO starts saving now, our kids can plan a trip to view the next total solar eclipse on April 8, 2024 in Cleveland, Ohio or Burlington, Vermont. Anyone want to make the first donation?!