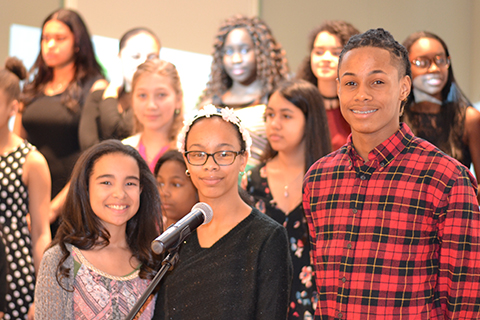 Performing Project Fundraiser Held in Newburyport
03.26.17
The 6th Annual Performing Project fundraiser was held at the Newburyport Senior Center on Saturday, March 25th. As per usual, the event featured performances by both YDO and Boston Children's Theatre (BCT) students. As per usual, the students blew away the crowd with their talent and growth after last summer's Beauty & The Beast, Jr.
This year's event, however, also featured some new and unusual elements. For the first time since its inception in 2012, the Performing Project had supported two seniors from Lawrence High School (Genesis Toledo and Christopher Vega) throughout the application and audition process to attend performing arts colleges/universities. Genesis and Christopher each performed one of their audition pieces as a solo; and, Christopher moved the audience to tears with a heartfelt thank-you speech for the Budzyna Family.
Also, for the first time, the Performing Project empowered the audience to choose the 2017 show by voting with donations. With the help of Arkida Saiwai's magical rendition of "Friend Like Me", Aladdin, Jr. won more votes than The Lion King, Jr.
Overall, the Performing Project fundraiser was very successful in raising $11,000 toward the 2017 production.
Mark your calendars now!
The 10-day program will begin on Monday, June 19thwith performances of Aladdin, Jr. on Friday, June 30th (evening) & Saturday, July 1st (afternoon). This year's location is still to be determined.
For more information on the Performing Project and its inspiring history, visit www.performingproject.org.