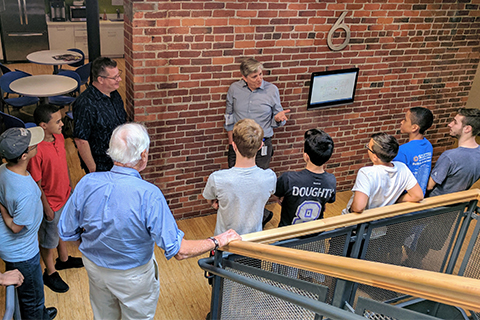 STEM Summer Tours NxStage Medical
08.02.17
This August, students in YDO's STEM Design Summer had the privilege of touring one of Lawrence's most successful companies. NxStage Medical, Inc., founded in 1998, is a medical device company designing and manufacturing next generation dialysis solutions that improve patient quality of life.
In October 2012, NxStage opened a new corporate headquarters in a stunningly-renovated, 7-story mill building at Lawrence's Riverwalk, along Merrimack Street. Last year, NxStage generated $366 million in revenue and had grown to include 378 employees in Massachusetts and 3,600 worldwide, including both full-time and part-time workers.
For YDO's STEM students, NxStage's Founder and CEO, Jeff Burbank, took time to give a tour of the facility and intro to the business operations, including insight into the wide-variety of career opportunities at NxStage that build upon STEM education and training.
Only a few days after YDO's visit, The Wall Street Journal announced that NxStage had reached a $2-billion deal to be acquired by Germany-based Fresenius SE & Co. The deal still requires regulatory approval and is expected to be completed in 2018. Burbank told the Boston Business Journal that the deal "feels really good" because Fresenius wants NxStage to continue doing what has made them so successful, which is a great sign for Lawrence and its skilled workforce.
________________
STEM Design Summer is a five-week, accelerated, hands-on experience to transform summertime learning and create a pathway leading to college success in STEM disciplines.
Participants in this accelerated program used three-dimensional, computer-aided-drafting software to design custom parts for their project; and learned to control an Arduino micro-controller using a computer programming language based on C/C++; and applied advanced Algebra, Geometry, and Trigonometry as well as engineering design concepts to produce a custom, electromechanical game.