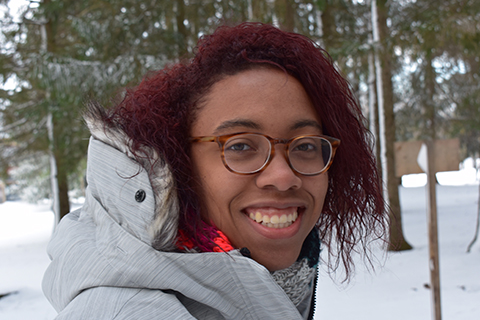 Denise Mullings
8 Years with YDO
Involvement: MIT STEM, Science Olympiad, Youth CITIES, YDO Summer Staff
My YDO Story
|
Quiet star shines a light for younger introverts
Denise Mullings,
Posse Scholar - Hamilton College - NCHR '16
Like many YDO kids, I know that I would definitely not be where I am now if I hadn't taken a chance and decided to join this organization.
I started going to YDO when I was in 7th grade. I remember being taken out of class to go meet Howard and by the end of that conversation I had signed for the Science Olympiad program. Then, before I knew it, I had joined the Architecture at Phillips Academy, started applying for different summer programs, and staying at the YDO office for 12 hours at a time (something that still haunts me) to prepare for [MA Science Olympiad] competition.
After reaching high school, I quickly stepped into leadership roles. I began helping out during the school year and summer, teaching anything from science classes to fashion design, film to creative writing. I was once again spending my entire days at the office, but I wouldn't trade that time for the world.
Thanks to YDO, I feel like I have grown as a leader and an educator. Every single program or class that I have led has helped me develop relationships with children that truly mean the world to me. It has been an honor to see every single YDO kid that I have taught over the years grow and develop the same way I did.
I think YDO is so important because it takes children that society doesn't think are good enough and shows them that by believing in themselves they can be extraordinary. All it took was Howard seeking me out from the hundreds of students that attended my middle school or Mark nominating me for a scholarship program to help me transform my life – something for which I am immensely grateful.