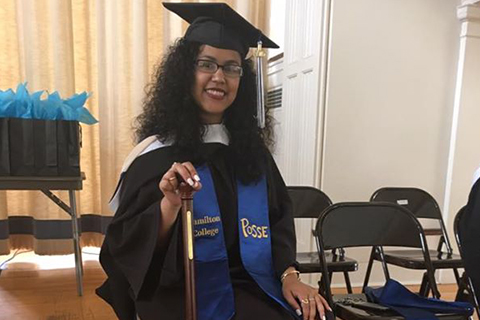 Nelly Alba
11 Years with YDO
Involvement: Journalism, Theatre, Study Abroad, Victorious Writers, YDO Summer Staff
My YDO Story
|
Posse Scholar returns to Lawrence
Nelly Alba, 2016
TFA Fellow, Posse Scholar - Hamilton '16 - NDCR '12
Howard Sticklor did something that many are afraid of doing – he allowed himself to build relationships, genuine relationships, with students often times seen as troublesome or "too much to handle". He realized that the most important part of working with the youth (especially us in Lawrence) is actually caring about what is happening in their lives.
Even though he was an outsider, Howard was culturally conscious of our background and saw strength in what others, even teachers, called our weaknesses – our love for talking, communicating, and showing affection. His care was apparent from the beginning. I instantly felt at home with YDO and never once felt as if I was unwanted or uncared for. That environment and support structure completely changed my life, and YDO gave me a safe space to express who I really am.
I started with YDO as a 7th grader. And, from all of my different experiences since then, I learned so much about myself, about the Lawrence community, and about this world in which we live. I went from participating in the journalism and theater programs, to spending a summer at Governors Academy for Project Rise. Through YDO, I was able to travel to San Bartolo, Peru, teaching English and then coming back and starting my own creative writing program called the Victorious Writers with another YDO student (Kaylee Cortes).
My senior year of high school, I wanted to bring in neighboring communities together and had a YDO end of the year celebration party with food, open mic, and a dance party. Additionally, I came back the summer of my first and second year of college to teach for YDO Summer. I say all this to simply show just how much I was able to do because of YDO. I was able to work on my craft of one day coming back to my community and being an educator.
There are not enough words to be said expressing how thankful I am to have found Howard, to have found YDO, and to have built such amazing relationships with the youth of Lawrence. I am also tremendously grateful for Mark coming in, and recognizing just how talented the Lawrence kids are and continuing to showcase their stories and giving kids a platform to spark – it is what makes YDO so special to me.
The Youth Development Organization is family, and when I share the story of how I came to be the person I am, YDO is on the top of that list! In May, I graduated from Hamilton College and, this fall, I will begin teaching at Lawrence High School, ENLACE as a Special Education teacher while working on my masters thru Boston University. My dreams are coming true!