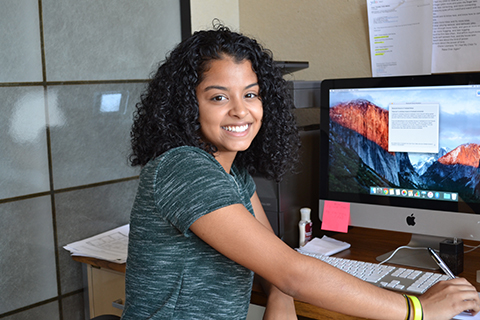 Sheily Baez
8 Years with YDO
Involvement: DESIGN Camp, College for Kids, Co-Director of YDO Summer
My YDO Story
|
Smiley-Faced Kid Grows into (Smiley-Faced) Leader
Sheily Baez, 2015
- Regis College '20 - CCHS '16
I first came to YDO in 2010 as a 6th grader. My close friend Zaray convinced me to join a summer program at UMass Lowell's Future Engineers Center. I had a great time learning to design a homemade candy dispenser, which gave me pink Starburst every time she pushed a button. From then on, I was hooked! I went on to participate in College for Kids at Northern Essex Community College, where I took Biology for the first time. To this day, I think that experience was the spark that put me on the path to becoming a Nurse Practitioner.
In 2016 and 2017, I stepped (with some nudging from YDO's director) into a leadership role by becoming Co-Director of YDO Summer. For two years prior, I had been a mentor and senior mentor while teaching photography. During my two summers as co-director, in addition to organizing the staff and field trips, I also planned the curricula for two new classes – responsible social media and Anatomy. Anatomy was one of the coolest YDO Summer classes ever because our students got to perform actual dissections – a cow's eye, a sheep's heart, a sheep's brain, and a frog.
I graduated from Central Catholic High School in 2016 and, currently, attend the accelerated nursing program at Regis College. I hope to have a career in either emergency medicine or pediatrics. YDO has played an important role in supporting me on that journey!