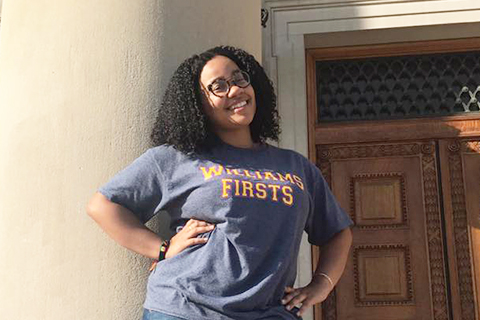 Yaznairy Cabrera
8 Years with YDO
Involvement: MIT STEM, Science Olympiad, Youth CITIES, Co-Director of YDO Summer
My YDO Story
|
Questbridge Scholar Helps Lead 1st-Gen Ephs
Yaznairy Cabrera, 2019
Questbridge Scholar - Williams College - NCHR '16
This goes without saying, but I feel as though it needs to be said – the task of defining YDO's role and significance in my still-developing story, is an impossible one. How do you properly articulate an organization that fed my intellectual curiosity, challenged my comfort zones, eased my self-doubt, and developed my leadership skills?
I've been involved with YDO since 7th grade, and the organization has been an integral part of my life ever since. At one time, I participated in YDO programming five days of the week. Soon, all my summers were filled with programs brought to me by YDO. YDO staff members helped me apply to college and secure scholarships. Howard, YDO's Founder, receives semester updates about what I'm doing now that I'm at Williams College.
When I was just 16, YDO's executive director, Mark, had faith that I could step up and become a co-director of YDO Summer. That role came with incredible responsibility, and I learned many things about being a leader that I still use to this day. When I was a senior at NDCR High School, Kaisy Rosario, then YDO's Associate Director, worked way past office hours reviewing my college essays and applications for Questbridge, a scholarship program that would ultimately match me with Williams College.
I wholeheartedly believe that without YDO I wouldn't be where I am. Over the years, YDO has offered me opportunities to partake in transformative experiences that have led to my intellectual, personal, and professional growth. As I hope is evident by my story, YDO has invested in my long-term development and strives to do the same for all its students.