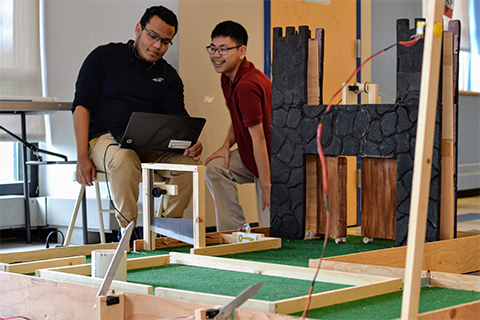 YDO Mini-Golf at Lawrence High School
06.12.18
YDO & LHS STEM PARTNERSHIP YIELDS IMPRESSIVE DEMONSTRATION
On June 11th, YDO and Lawrence High School (LHS) celebrated the successful first year of "STEM Design 325." This year-long elective course for LHS upperclassmen is designed and delivered by YDO as part of the high school curriculum.
The students spent the school year focused on engineering design, 3D modeling, computer coding, Arduino microcontrollers and applied math. They pulled all this learning together to complete a capstone project: designing and constructing a computer-controlled, motorized mini golf course on display at LHS.
Our students challenged their peers, teachers, and school administrators to compete. Each hole played like a game against the clock, with mechanized features and sensors. One challenge required navigation through a castle filled with moving obstacles while another used multiple momentary switches to move the walls of a maze and unlock a path to the hole. Also taking some swings were Jeff Riley, the outgoing Lawrence Public Schools superintendent (and newly-selected Massachusetts Education Commissioner), and State Representative Diana DiZoglio.