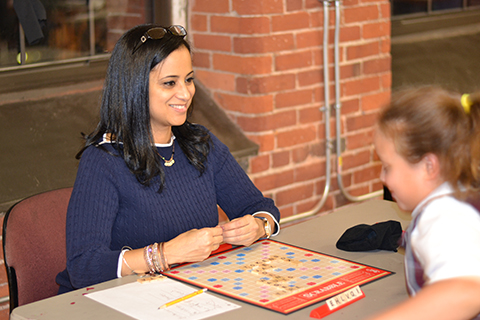 YDO Names Parent Volunteer of the Year
11.23.16
On Tuesday, November 22nd, YDO hosted the second annual YDO Gives Thanks, a potluck dinner to celebrate another year of family, friends, and accomplishment. At this event, the most important tradition has become naming and recognizing YDO's Parent Volunteer of the Year.
The 2016 certificate was awarded to Isabel Guzmán.
"In grateful recognition of your commitment to YDO,
always doing more than what could be expected…
Thank You for 2016″
Isabel volunteered to mentor and support the Fashion & Design class for YDO Summer. In fact, 2016 was her second year leading the fashion program, which has grown into one of the summer's most popular classes. Every day for five weeks, Isabel shared her time and talent to help our students bring their ideas, visions into reality – which is no easy feat.
Click here to view photos from the 2016 Fashion Design class.
In the fall, Isabel also helped supervise YDO board game nights. When YDO @Phillips Academy took its November break, board game Thursdays became a way for YDO to get our kids away from the smartphone and computer screens. Emphasis was put on personal interaction, learning new rules and taking turns. Along the way, students learned to play Cribbage, Scrabble and Set, among other strategy games. (Full disclosure – Isabel also learned to play Uno for the first time.)