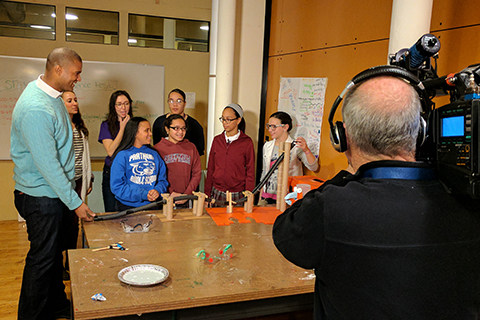 YDO STEMinistas 'Making the Grade'
12.07.16
SPARKING ENTHUSIASM FOR SCIENCE
Through the hard work and connections of Science Club for Girls, YDO's Cambridge-based partner, a group of our middle school ladies will forever remember that time they were on TV!
NECN Reporter Frank Holland travelled to Lawrence in late November to meet our STEMinistas and learn about the club that is empowering young girls with an extra spark of confidence when exploring math and science.
YDO has worked closely with SCFG over the past three years to host three clubs serving girls in grades 2-8. Many of our high school students have had the opportunity to become trained Junior Mentors and help lead programming for their younger counterparts.
Our partnership made a splash last spring, too, when STEMinistas and YDO's STEM Design Lab collaborated to construct a Rube Goldberg Machine featured in a video kicking off the 10th Annual Cambridge Science Festival.
Spring clubs with new curricula begin on February 6th. Interested new students can contact the YDO office for more information.
Our spring showcase event, Everybody Loves Science, will be held Saturday, April 15th at the Everett Mills Event Space in Lawrence. Stayed tuned for more details.