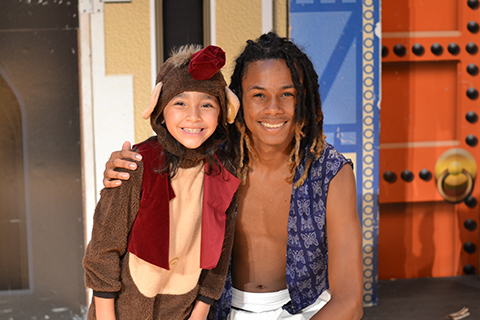 Performing Project presents Aladdin, Jr.
07.02.17
YDO's annual effort with Maggie Budzyna & the Performing Project continues to deliver one of the best musical theatre opportunities in Lawrence. This June, sixty (60) YDO students took part in auditions, ten full days of rehearsals, and two performances to deliver Aladdin, Jr.
Major Characters
Aladdin – Jahmo Chavez, Gr 10 GLTS
Genie – Christopher Vega, Grad LHS
Jasmine – Genesis Toledo, Grad LHS
Iago – Chanelle Jaime-Guzman, Gr 7 UP Oliver
Jafar – Juan Hoggins, Grad LHS
Sultan – Giancarlos Jaime-Guzman, Gr 10 LHS-ALA
Magic Carpet – Reilley Whalen, Gr 6 Frost
Abu – Alexis Arias, Gr 2 Hennessey
Narrator 1 – Briannette Villa, Gr 11 Georgetown
Narrator 2 – Sabrina Marte, Gr 9 LHS-ALA
Narrator 3 – Camille Lopez, Gr 8 LCA
Narrator 4 – Star Andrickson, Gr 8 LCA
Narrator 5 – Jenevieve Young, Gr 7 Timony
Congratulations to all of this year's cast!! What will next summer have in store??