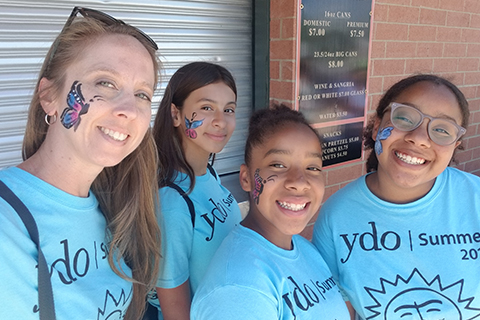 YDO 2018: Another Amazing Year
12.31.18
THANKS TO ALL OUR SUPPORTERS!
The last several years at YDO have been marked by tremendous growth, in students served and programs delivered, and 2018 was no exception!
Over the last year, we worked with more youth than ever before in our history. We implemented an exciting new STEM programming partnership with Lawrence High School. We hired our first dedicated fundraiser and welcomed a director of recruiting and persistence–YDO Alumna Nelly Alba! We launched Postsecondary Pathways: our newest flagship program, focused on college success and delivered in partnership with Abbot Lawrence Academy. The list goes on!
As this year comes to a close, all of us in the YDO community want to share our deepest gratitude to the many supporters and volunteers who made our work in Lawrence possible. In particular, we wish to acknowledge the following foundations and companies, which provided critical financial support:
Amelia Peabody Foundation
Eastern Bank Charitable Foundation
Essex County Community Foundation
Gelfand Family Charitable Trust
The Leona M. and Harry B. Helmsley Charitable Trust
The Hestia Fund
Keller Family Fund
Edward S. and Winifred Moseley Foundation
George H. and Jane A. Mifflin Memorial Fund
Rogers Family Foundation
Nathaniel & Elizabeth Stevens Foundation
Richard and Susan Smith Family Foundation
TD Charitable Foundation
Van Otterloo Family Foundation
Women's Fund of Essex County
These institutions and all of our donors make critical investments in the young leaders of tomorrow—in Lawrence, the Merrimack Valley, and beyond.
We thank you for your support!